Seit meiner frühen Jugend habe ich so ziemlich alles gesammelt was mit Film zu tun hat.
Promo Sticker, Pressefotos, Presskits, Pressemappen, Magazine, Plakate, Autogrammkarten, Autogramme,
Kinotickets , Filmprogramme, Pins, Handzettel usw.
Since my early youth I have collected movie memorabilia like
promo sticker, press photos, presskits, pressfolder, magazines, poster, postcards, autographs, tickets, programmes, handbills and more.

update 8. May 2006:
Silent Movie Stars:
Charlie Chaplin
Laurel & Hardy
Buster Keaton
Harold Lloyd
Harry Langdon
3 Stooges
Abbott & Costello
D. W. Griffith
Lillian Gish
W. C. Fields
Jacques Tati
Georges Melies
Marx Brothers
Other National & International Movie Stars....:
Ich löse meine sehr umfangreiche hochwertige Pressofoto Sammlung auf.
I sell my big Press Photo Collection.
More than 20.000 press Photos!
Angebote willkommen. Offers are very welcome !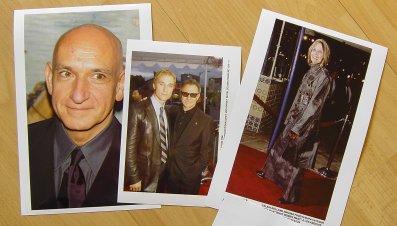 Ben Affleck
Dino de Laurentis
Verona Feldbusch
Uschi Glas- Anna Maria- eine Frau geht ihren Weg
Thomas Gottschalk
King Kong- Handbill 2005
Gaby Köster
Dagmar Koller
Rene Kollo
Manfred Krug
Jessica Lange
Heiner Lauterbach
Jude Law
Volker Lechtenbrink
Christopher Lee
Spike Lee
Tommy Lee
Janet Leigh
Jack Lemmon
Ute Lemper
Michael Lesch
Monica Lewinsky
Jerry Lewis
Karl Liefen
Lindenstraße- verschiedene
Virna Lisi
Klaus Löwitsch
Johnny Logan
Gina Lollobrigida
Sophia Loren
Lotto King Karl
Jennifer Love Hewitt
George Lucas
Susan Lucci
Ingolf Lück
Lulu
Dolph Lundgren
Andie Mac Dowell
Ewan Mac Gregor
Elle Mac Pherson
Shirley Mc Laine
Mariele Millowitsch
Willy Millowitsch
Angelika Milster
Roman Polanski
Heinz Schenk
Sylvester Stallone
Charlize Theron
Andrew Lloyd Webber
Film Pressefotos :
Robert Atzorn - Unser Lehrer Dr. Specht
Victoria & David Beckham
Tracy Gold / Kirk Cameron / Jeremy Miller- Unser lautes Heim
Ruth Maria Kubitschek
Tobias Moretti- Kommissar Rex
George Nader/ Uta Levka / Dieter Eppler - Jerry Cotton & Edgar Wallace Festival 2000
Chuck Norris- Walker Texas Ranger
Eve Scheer- Unter uns
Wolfgang Stumph- von fall zu Fall
Und tschüss in Amerika
Unter einer Decke
Peter Ustinov
Ingrid van Bergen
Enie van de Meiklokjes
Isabel Varell
Verbotene Liebe
Helen Vita
Szanne von Borsody
Rosa von Praunheim
Margarethe von Trotta
Gila von Weitershausen
Natasha Gregson Wagner
Denzel Washington
John Wayne / Angie Dickinson- Rio Bravo
Sigourney Weaver
Peter Weck
Dr. Dieter Wedel
Heidelinde Weis
Raquel Welch
Horst Wendlandt
Klaus Wennemann- Vater braucht eine Frau
Ilse Werner
Paula Wessely
Royals, Queens, Kings....:
Netherland
Great Britain
Denmark
Monaco
USA
Russia
Stars on German Magazine Cover update:
Christina Aguilera- RTV 2003
Jennifer Aniston- TV Today 2004
Halle Berry- RTV 2004, TV Movie 2004
Jeanette Biedermann- RTV 2004, Einkauf Aktuell 2004,
Pierce Brosnan- James Bond- DVD World 2003
Yvonne Catterfeld- TV Today 2004, TV Movie 2004
Sean Connery- Kino News 2003
Kirsten Dunst- TV Movie 2004
Kevin Costner- RTV 2004
Yamila Diaz- TV Movie 2004
Bob Dylan- Live in Concert 2002
Anke Engelke- RTV 2004
Enigma- JPC Courier 2006
Eva Habermann- TV Movie 2005
Simone Hanselmann- TV digital 2005
Helloween- Musix 2006
Him- live in Concert 2004
Scarlett Johansson- RTV 2004
Angelina Jolie- RTV 2003, Skip 2003, TV Today 2003, TV Movie 2004
Nicole Kidman- TV Today 2004
Heidi Klum- TV Movie 2004, TV Digital 2006, TV Movie 2005
Diane Kruger- TV Digital 2005
Jennifer Lopez- TV Today 2004, TV Movie 2004, TV Movie 2005
Peter Maffay- Glüxmagazin 2003
Maja Maranow- RTV 2003
Eva Mendes- TV Digital 2006
Kylie Minogue- RTV 2004
Alexandra Neldel- TV Today 2004
Anna Netrebko- RTV 2004
Queen- We will rock you- Musical- RTV 2004
Rebecca Romijn- TV Movie 2005
Rosenstolz- Event 2003, JPC Courier 2006
Arnold Schwarzenegger- MakroMarkt 2003
Shakira- RTV 2003
Britney Spears- TV Movie 2005
Patrick Stewart- Star Trek- RTV 2003
Jacques Tati- Jour de fete- ARTE TV Magazin 2002
Veronica Varekova- TV Digital 2005
Jürgen von der Lippe- RTV 2004
Naomi Watts- RTV 2004
Sophie Wepper- RTV 2004
Robbie Williams- Wom Journal 2003
Robbie Williams- Live in Concert 2003, Wetten dass ? 2004,
Renee Zellweger- RTV 2004
Catherine Zeta- Jones- RTV 2003, TV Movie 2004, TV Movie 2006
CSI- William Petersen, Marg Helgenberger- TV Digital 2005
Findet Nemo Walt Disney- Cine Star 2003
Findet Nemo Walt Disney- UCI Kino Welt 2003
Harry Potter- RTV 2002, Empire 2006
Herr der Ringe- Philatelie 2004
Himmel und Huhn- Kinopolis 2006
Shrek 2- RTV 2004
Sponge Bob- RTV 2004
Troja- RTV 2004
Die Unglaublichen- Walt Disney- Premiere 2005
Werner- Gekotzt wird später- Magascene 2003
and many more !!!!